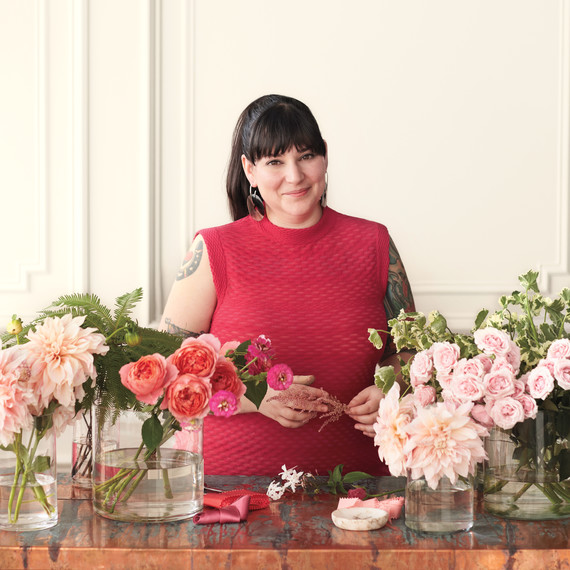 Philadelphia floral designer Sullivan Owen found her calling while working on an event very near and dear to her heart: her own wedding. A former retail designer at Anthropologie, Owen so enjoyed arranging roses for her celebration that she quit her job to take classes at FlowerSchool New York and begin freelancing in NYC and Philly. In 2011, she opened her eponymous studio, where relaxed, straight-from-the-garden arrangements, which she calls "disheveled but fashion-forward," won her Philadelphia magazine's "Best Florist" title. Summer is an embarrassment of riches, but all year Owen is devoted to using unexpected varieties her clients may not be aware of, like lady's slipper orchids and gladiolus. "I try to suss out what it is about a bride's favorite flower that she likes," Owen says. "Then I make sure that on the day of, all the flowers evoke that feeling."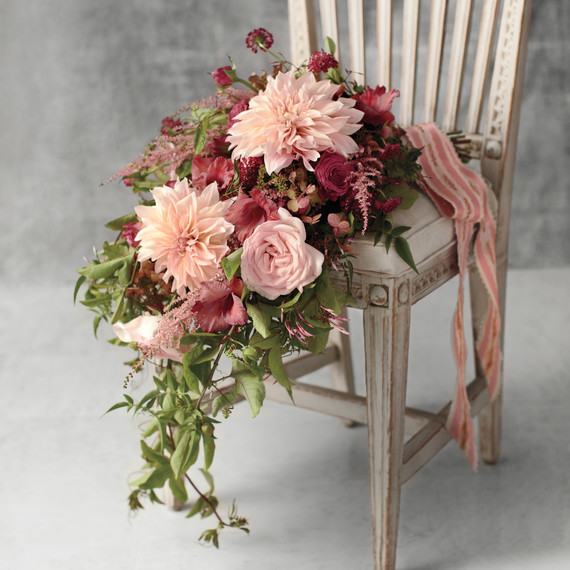 Dahlia Bouquet
Owen loves to use dinner plate dahlias, the large, pale pink superstars of this bouquet, which also features roses, astilbes, gladiolus, scabiosa, and quickfire hydrangeas. But she doesn't limit herself to pastel, sundress shades during the warmer months. "I have a real penchant for darker hues like wine and burgundy," says Owen, "especially for a vineyard wedding."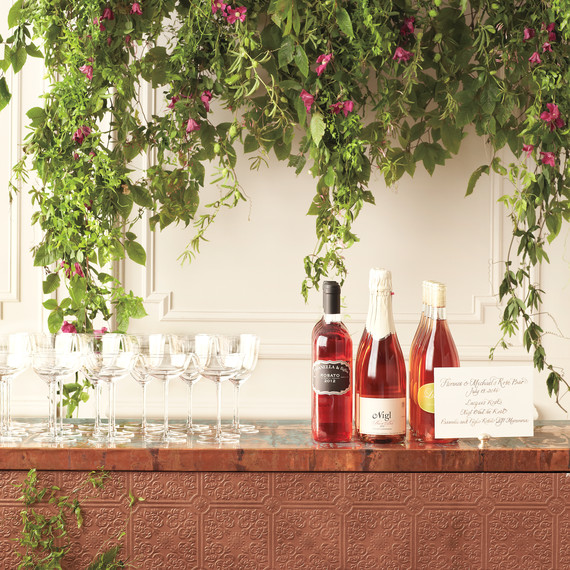 Overgrown Bar Backdrop
Even teetotalers will belly up to admire this verdant backdrop. "I was picturing one of Philly's grand old stone manors with greenery swamping the building, like in the '90s film version of Great Expectations," Owen says. To get the overgrown effect, she wove together beech foliage, passionflower vine, jasmine vine, and clematis flowers, and hung them from an iron curtain rod suspended from the ceiling. "I love bringing designs above people's heads," she says. "It feels like you're surrounded by nature." And this idea is versatile: it would also make a sensational ceremony marker.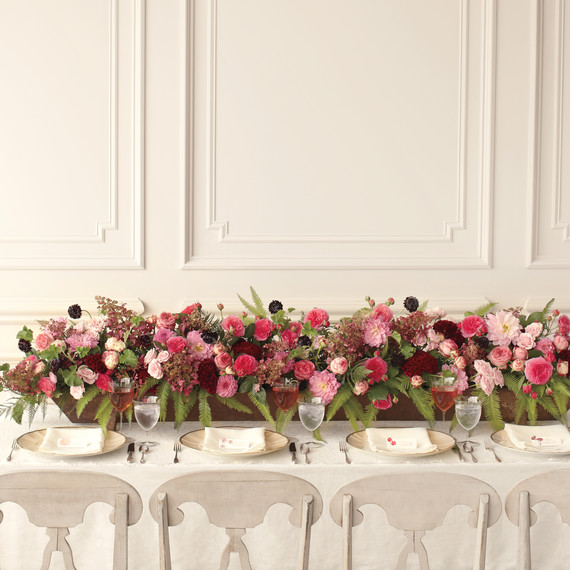 DIY Centerpiece
Adore the image of an overflowing window box in midsummer? Check out Owen's trick for getting that look all year long: a single seven-foot weathered-iron feeding trough, which she uses as a centerpiece instead of several smaller vases. "It's an incredibly unique item that brings the outdoors in without being a traditional planter," she says. Plus, it holds an abundance of flowers. Here, she mixed dahlias, garden roses, pink majolica spray roses, quickfire hydrangeas, coxcombs, and scabiosa with geranium foliage and umbrella, sword, and flat ferns.
Owen spotted her trusty trough at a flea market in Amish country, but we found these versions, which set three different scenes that you can DIY.
From top:
Set a vintage vibe with Antique Revival's wooden trough ($57, wayfair.com).
Make it a modern fête thanks to a spare cement pot ($10, jamaligarden.com).
Add some shine courtesy of Habit & Form's copper-zinc container ($48, shopterrain.com).