Martha Stewart Weddings, Volume 12 2000

Wardrobe for a wedding should be determined by the time of day and level of formality of the reception. The former is clear enough: A daytime celebration is one held before 6 P.M., while an evening wedding is held after 6 (or begins a bit before and continues well into the night). The question of formality is less straightforward; it is not a single detail that gives a wedding its style, but all of the elements combined. An evening event in an ornate, grand ballroom with a seated multicourse dinner and an orchestra calls for equally impressive traditional attire, whereas for an afternoon wedding outdoors with pots of wildflowers, food fresh off the grill, and a lively bluegrass band, a smart suit for him and a white pique sundress for her would be charming. 
For the Bride
Most bridal gowns could correctly be called formal, but the shape, style, fabric, trimmings, and accessories make some more so, others less so. The distinction between day and evening attire is usually subtle and subjective: Jeweled accents, for example, often lend an evening feel, but just a sprinkling of sparkle may be fine for daytime. In addition to the level of formality, a bride must consider the location of the wedding: Daisy appliques will look out of place in an urban hotel, but right at home in a garden. A bride's hair and makeup also influence the overall effect.
For any formal wedding, a ball gown of silk, satin, tulle, or lace with a cathedral-length train or veil is a romantic choice. A ball gown with a chapel or sweep train and complementary veil is also appropriate for a somewhat less formal event, as are other silhouettes, such as the A-line, empire, and sheath. Elaborate detailing such as beadwork or embroidery can make a gown more formal. Gloves may be worn for formal or semiformal weddings; velvet and fur should be reserved for winter months.
For semiformal to informal events, simply styled dresses in traditional silhouettes worn with short veils or none at all are appropriate. Modern designs, such as halter and slip dresses, and dresses in colors that are far from white usually fall into the same category (though they are occasionally more formal). For an informal wedding, a bride might choose a long dress in a fabric such as pique, Swiss dot, or jersey, or she may wear a chic suit or short dress.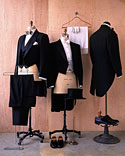 For the Groom
Guidelines for men's formal wear remain somewhat strict today, though the groom can customize even the most traditional attire.
At a formal evening wedding, white tie was once the only proper choice; this dashing ensemble, which includes a black tailcoat and trousers worn with a white shirt, waistcoat, and bow tie, is still wonderfully elegant. But a century ago, gentlemen embraced a more casual alternative: the tuxedo, with its black dinner jacket, trousers, bow tie, and white shirt. Technically referred to as semiformal, the tuxedo, also known as "black tie," has come to be known as the appropriate choice for formal evening weddings. A white dinner jacket can be worn in place of a black one for a wedding in the summer or in a hot climate.
In the daytime, the most formal wedding calls for a morning suit, which includes a gray or black cutaway jacket, gray waistcoat, white shirt, gray-and-black striped trousers, and a striped four-in-hand tie or ascot. A similar ensemble is worn for a semiformal daytime wedding, except that a black or gray short jacket, called a stroller, is worn instead of the cutaway.
For an informal wedding, the groom may wear a suit; black and dark colors are more appropriate for evening (and winter) events. Classic ensembles such as a navy blazer and gray flannel or white linen trousers are also popular and stylish.
Day
The skinniest straps modernize this grand gown, with a full skirt and fitted bodice in luxurious satin; the morning suit is dashing and distinguished, complete with cutaway jacket, waistcoat, and ascot.
Night
A veil cascades along the length of this silk zibeline dress, while a vibrant wrap temporarily obscures its pearl-and-crystal beading. The ultimate in sartorial splendor for him: white tie.
Day
This pale-pink strapless sheath gains a modicum of modesty with an off-the-shoulder jacket; short gloves and a pearl choker add retro appeal. The groom's short gray jacket, called a stroller, is worn with striped trousers.
Night
This beaded tulle gown and hand-embroidered veil fall beautifully to create a soft silhouette. Today, a tuxedo is appropriate for all but the most formal of affairs.
Day
An asymmetrically draped silk jersey dress paired with a pink-and-gray cloche is darling and a bit daring -- and this is a dress the bride can wear again. His floral tie, worn with a tan cotton-rayon suit, is a cheerful and fitting accent for a wedding held outdoors on a lovely afternoon.
Night
Her matte-jersey dress is flirty and fun, but with a long, full skirt, she still looks like a bride. A sleek black suit with a subdued plaid tie is a stylish choice for him once the sun goes down.