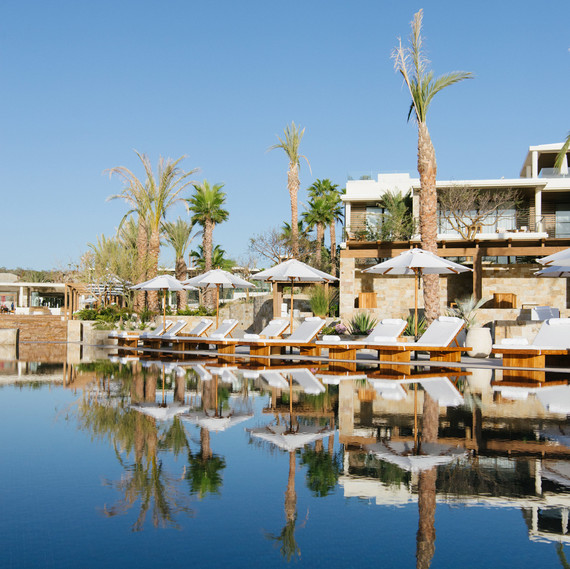 After a recent trip to Mexico's Baja Peninsula, Real Weddings Editor Shira Savada has some great ideas for hosting celebrations—everything from your bachelorette party straight through to the wedding—there. Read on to find out why going south of the border could be just the thing for your fiesta, or for a perfectly charming getaway.
Chileno Bay Resort & Residences
Opened in February 2017, Chileno Bay Resort & Residences, above, is a brand-new Auberge Resort in San Jose del Cabo that's super luxe and so relaxing. Since it's located on one of the few swimmable beaches in Cabo, you can try out fun water activities, like the floating bike I took a spin on, or just kick back and relax by the three-tiered zero-edge pool. The friendly staff swung by with a refreshing juice-of-the-day and a chili powder-flecked pineapple skewer, the perfect snack before indulging in a signature margarita at the poolside café, TnT (short for tacos and tequilas, naturally). Lined with volcanic salt, the drink packed a punch and instantly put me in vacation mode. When it's time to head back to your room—a modern, massive space sporting an outdoor shower and a bathtub I want in my future life—it will be hard to imagine ever leaving your indoor/outdoor oasis. But alas, freshen up, rest a bit, and then head back out. I enjoyed dinner and breakfast at their main restaurant, Comal, where the views are abundant and the hanging hammock-esque chairs in the lounge are inviting. Also, their morning buffet is not to be missed. With equal parts healthy choices (wheatgrass shots and green juices) and indulgences (local pastries), there's something for everyone.
You can get married here (a full buyout would guarantee an epic event), but I also think a honeymoon or bachelor/bachelorette party would be pretty spectacular at this contemporary spot. Consider renting out one of their multi-room villas for your crew and leave the rest to Chileno Bay!
Destination Weddings