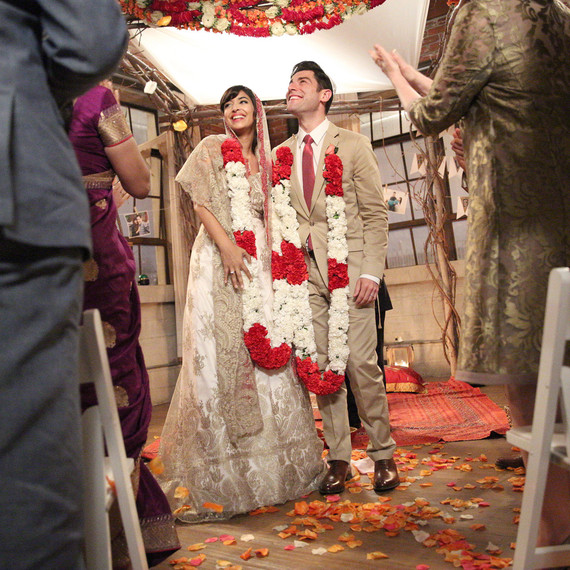 New Girl's two-part season five finale aired last night, and though it was centered on Schmidt (Max Greenfield) and Cece (Hannah Simone)'s wedding, which the series has been building to for quite some time, there were a few unexpected developments.
1. Schmidt missed the wedding.
That's right. Believe it or not, the same man who dreamed of his wedding his whole life and spent the entire season planning it with a level of fervor that can only be described as "the male Martha Stewart," couldn't make it to the ceremony. The groom had sweetly jetted off to Portland the day before the wedding to convince Cece's mom to come but wound up stuck on a plane. The show went on, though: the groom videoconferenced in to lead a conga line, hear the wedding speeches, and even kiss his bride.
"We wanted to show how much Schmidt's grown and how much Cece has helped him grow," show creator and executive producer Liz Meriwether told Entertainment Weekly. "What's surprising about it is the way he reacted to it, that he was kind of okay with it, that he made the best of it because he was just happy to be marrying this woman he loves. If you think about Schmidt in season one, that's such a huge growth for his character." Thankfully, the roommates still got to celebrate, loft-style: Upon Schmidt's return, they had a second ceremony and reception in the same apartment that brought the couple together.
The Best-Ever TV Married Couples