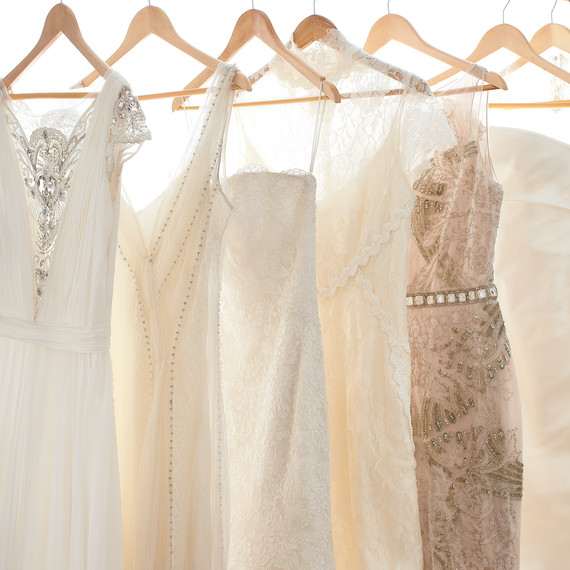 Q: I bought my gown early, and need to store it for eight months. What's the best way to ensure it looks just as good on my wedding day as it did when I picked it up from the salon? —Christie, via e-mail

A: It might seem intuitive just to zip your gown into a garment bag and hang it in a closet like you do for any other fancy outfit. But hangers can put stress on shoulders and seams, especially if your dress is on the heavier side. Instead, pack it as you would for preserving it postvows, says John Mahdessian, owner of Madame Paulette, a couture cleaner in New York City. That means getting an acid-free archival clothing box with plenty of pH-neutral tissue paper to protect the fabric from deterioration (we like the textile archival kit, $59, from archivalmethods.com). Use the tissue to line the box and stuff the bodice, skirt, and sleeves to hold their shape. Avoid sharp creases by gently folding the dress in a Z shape and laying it on a bed of more crumpled tissue paper. Keep the box away from sunlight, says Mahdessian, and avoid humidity-prone basements and attics. As an extra precaution when handling the gown, wear white cotton gloves (these come with most preservation kits) because oil from your hands can stain fabric. The night before, or morning of, your wedding, transfer your dress to a hanger and smooth any wrinkles with either a steamer—ideal for tulle and lace—or the low heat of an iron, which is best for satin, chiffon, and organza.
Storage Solution
To fold your dress without creating noticeable lines, choose a box that is about one-third the length of your gown. While wearing white gloves, line the box with tissue paper, then lay the bottom half of the skirt inside. Place sheets of tissue on top, then fold the dress so that the waist meets the hem. Layer more tissue, then fold one more time, leaving the bust facing outward. Just before your wedding, hang your dress up, leaving a foot of space on either side, and cover it with a muslin garment bag.