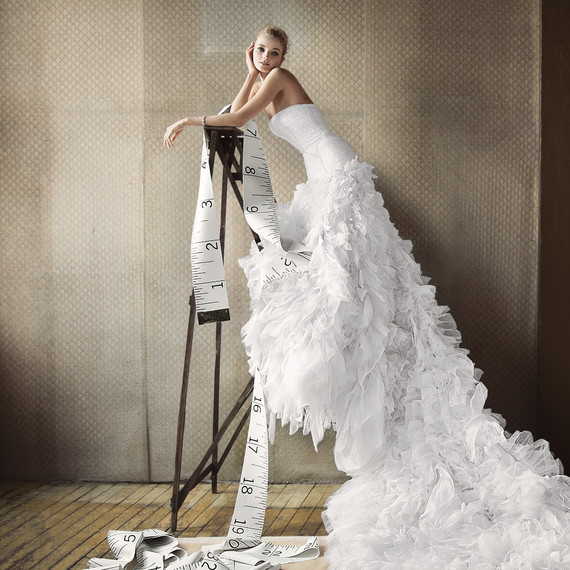 Delicate handmade lace
The difference between a ball gown with fine Chantilly lace and one with a slightly-heavier Alençon can be as much as $5,000. Lace material ranges from silk to cotton to synthetic fibers and is priced accordingly. Before you shop, brief yourself on different types of lace and have an alternative runner-up in case your first choice is on the pricey side. We love the macramé details from YolanCris, especially if you're looking for a more modern take on lace. What's more, you don't have to have an all-lace dress. "Consider a beautiful silk faille or crepe gown and add a lace bolero or topper to recreate a similar effect," says Chasco.
Longer train
This is simple math—a longer train uses more fabric. If you don't want to pay for extra yardage—which can run between $200 to $2,500, according Hall—opt for a cathedral-length veil instead.
Silk lining
A silk gown can hold a lot of appeal for brides, but only you know why this fabric is important to you. If it is for comfort and breathability, it is best to splurge on silk lining as well.  If you are more concerned with the luxe appearance, skip the 100-percent stuff for the lining and consider a silk-blend, or even a different lining fabric entirely, suggests Chasco.
Swarovski crystals and beads
High-quality bling isn't cheap, especially if the dress is hand-beaded. The good news, you can still have embellishment by looking for gowns with partial beading around the neckline and waist. Keep in mind, not all designers offer customization options, which means you'll have to rely on a seamstress to add any additional detail by hand.
Customization and tailoring
Once you choose your perfect gown, remember that it still needs to be fitted—from lifting the hem to adding a bustle—you can easily spend more than $500 on alterations. Additional customization like creating a sweetheart neckline, extending the train or affixing (or removing) beading translates into a higher price tag overall. One way around paying for customization is to attend trunk shows. "You may be able to swap a zipper for covered buttons without paying a premium by meeting the designer in person," says Hall.


Your Ultimate Alterations Guide
A second dress
Two dresses are more expensive than one—duh! But if you're set on changing your look, seek designers who have a collection of separates, like Karen Willis Holmes and Mark Zunino. Both offer unexpected silhouettes, including skirts and pants.