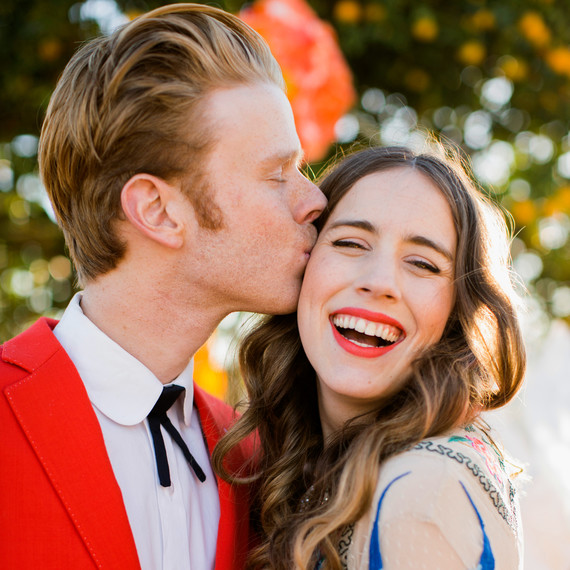 Exfoliate
Start a lip treatment regime up two weeks before your actual wedding day, and make a great lip exfoliator part of that regime. Fresh Sugar Lip Polish ($22.50) is a go-to, but you can also make your own: Mix 1 part oil (coconut or jojoba), 1 part honey, and 1 part sugar together in a bowl. Keep it in the refrigerator, but let it warm up to room temperature before applying. 
Twice a day, rub the exfoliant into your lips and then lightly scrub them with a medium-bristle toothbrush to slough off dry and dead skin. Rinse off excess scrub with a warm washcloth. While it's important to properly exfoliate, don't go overboard; the skin on your lips is very thin and can be sensitive, so adjust this regimen to suit your personal needs.
Lay Down a Base
After exfoliating, apply a balm as a base coat to your lips. Try Shiseido The Skincare Protective Lip Conditioner SPF 12 ($23) or splurge on a more intensive exfoliating product, such as Natura Bisse Nb Ceutical Tolerance Enzyme Peel ($150).
Prepping your lips in this way gives you a moisturized, smooth surface that will stain evenly and prevent the dark pigment from grabbing onto certain parts of the lip.